FOX VALLEY CHAPTER 2019-2020 PROGRAM HIGHLIGHTS
UPDATED: March 26, 2020
Click on this link to download a complete list of our 2019-2020 Chapter Program Highlights as a PDF
Click on this link to view our 2019-2020 Past Events
---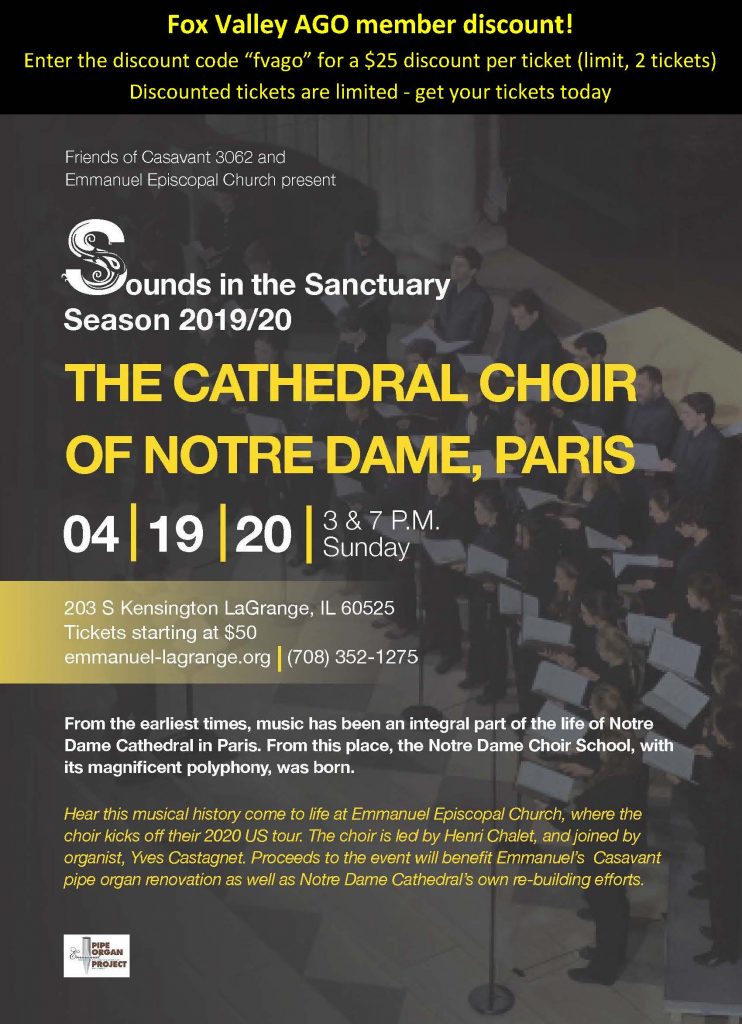 ***** RESCHEDULED FOR APRIL, 2021 *****
CHORAL PERFORMANCE
Sunday, April 19, 2020 at 3:00 PM and 7:00 PM
The Notre Dame Cathedral Choir, Paris
Henri Chalet, Conductor
Yves Castagnet, Organist
The Notre Dame Cathedral Choir of Paris will tour the US for one week in April of 2020. Emmanuel Episcopal Church, LaGrange will kick off this tour, as the only Chicago/Midwest venue. From the earliest times, music has been an integral part of the life of Notre Dame Cathedral in Paris. From this place, the Notre Dame Choir School, with its magnificent polyphony, was born.
PLEASE NOTE: an additional performance is also occurring at 7:00 PM.
TICKETS: https://app.arts-people.com/index.php?ticketing=casa
Click "HERE" to download a poster for this event.
FOX VALLEY AGO MEMBERS: Given the intimate space of Emmanuel Episcopal Church in LaGrange, the Notre Dame Cathedral Choir performances are sure to sell out. As an incentive to FVAGO members to attend at an affordable price, the chapter will cover $25 per ticket (limit 2) as a benefit to its members. This special group rate is good for up to 30 tickets, so do not delay, get your tickets today at https://app.arts-people.com/index.php?ticketing=casa and be sure to type in the coupon code: fvago. Should you prefer to pay by check or have other questions, please contact George Tarasuk, FVAGO board member and Music Director at Emmanuel Episcopal Church at 312-835-2526.
Emmanuel Episcopal Church
203 S Kensington Avenue
La Grange, IL  60525
George Tarasuk, event host
---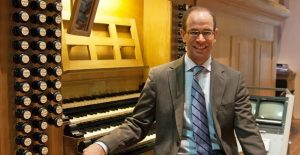 ***** RESCHEDULED FOR FRIDAY, AUGUST 21, 2020 *****
ANNUAL DINNER, MEETING AND RECITAL
David Jonies, concert organist
Friday, May 15, 2020
5:30 PM COCKTAILS and CONVERSATION
6:00 PM BUFFET DINNER
6:40 PM MEETING and REMARKS
7:30 PM DAVID JONIES RECITAL
8:35 PM GALA RECEPTION
St. Mark's Episcopal Church
393 N Main Street
Glen Ellyn, IL  60137
(630) 858-1020
http://stmarksglenellyn.org
Click "HERE" to see additional information about the organ at St. Mark's.
Admission: $22 per person includes Appetizer, Dinner, Beverages, Organ Recital, and Reception.
Dinner Menu includes Salad, Green Beans, Potatoes, Vegan Pasta, Chicken Parmesan, Lasagna, Other gluten–free foods.

Come and meet new friends, connect with old acquaintances, and learn how the Fox Valley Chapter can help you become a better musician!

Please RSVP for the dinner event no later than Wednesday, August 12, 2020.
---
Tickets and to RSVP on-line with a PayPal account or a Major Credit Card:
---
To RSVP for tickets and submit payment at the event by cash, check, or credit card – please contact David Lincoln at 630-417-7245 or webmaster@foxvalleyago.org
---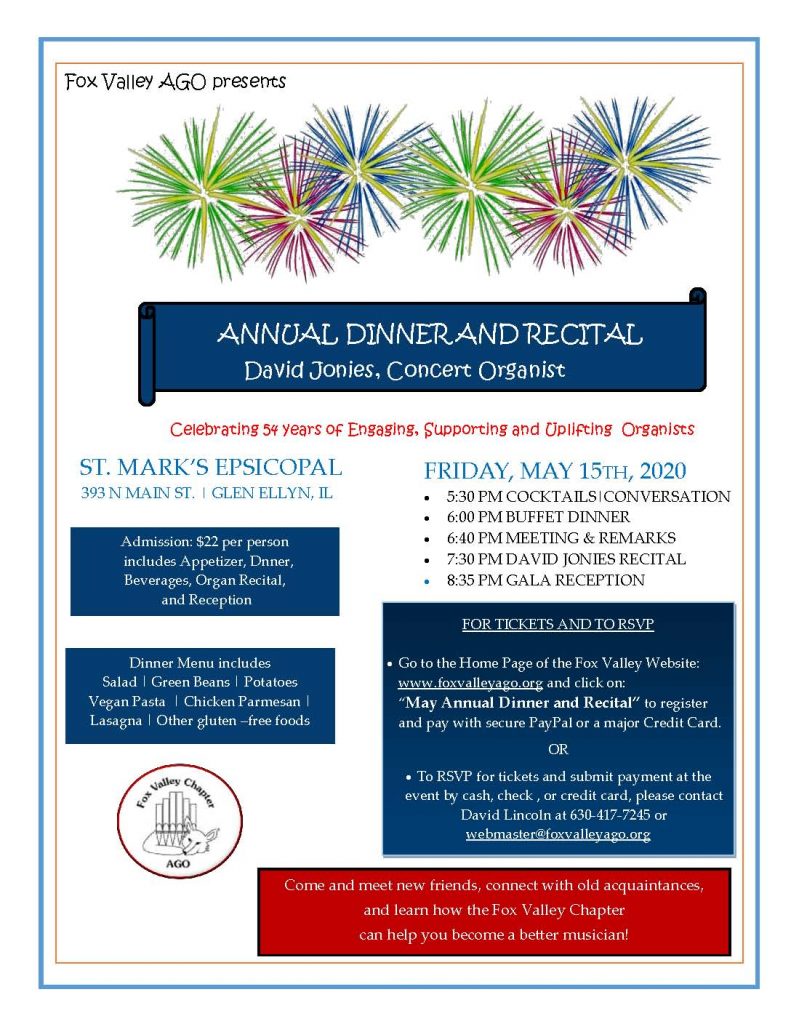 Click "HERE" to download a poster for this event.