FOX VALLEY CHAPTER 2019-2020 PROGRAM HIGHLIGHTS
UPDATED: June 29, 2019
Click on this link to download a complete list of our 2019-2020 Chapter Program Highlights as a PDF
---


SING – A HOPE PUBLISHING COMPANY READING SESSION
Friday, October 18, 2019 at 7:30 PM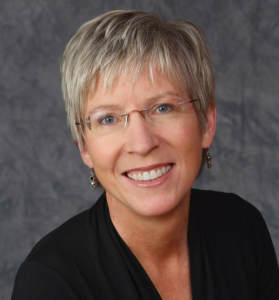 Jane Holstein, Editor and Presenter
Come, as we lift our voices together in song and experience newly published anthems from Hope Publishing Company.  Editor Jane Holstein will lead us through a session of choral music useful for both large and smaller choirs.  The choral packet will be yours to keep and will include music for General, Ordinary Time, Advent, Christmas, Epiphany, Lent and Easter – all in a variety of voicings, including Two-part, SAB, and SATB.  Marianne Kim will join to accompany the session and to perform a few selections from Hope's newer key-board publications. Refreshments will be served.
Take home a FULL packet of music and learn new techniques!
This session is free to all Fox Valley AGO members and $20.00 to non–members.
Bethlehem Lutheran Church
1145 N. 5th Avenue (Rt. 25)
St. Charles, IL 60174
Joshua McClure, event host
---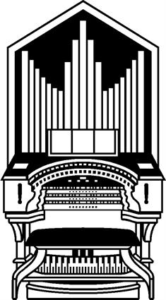 PEDALS, PIPES, & PIZZA!
Saturday, November 9, 2019 from 9:00 AM – 12:30 PM
Click HERE and visit our Young Organist Events Page to learn about this exciting event that is occurring in Wheaton, Illinois.
---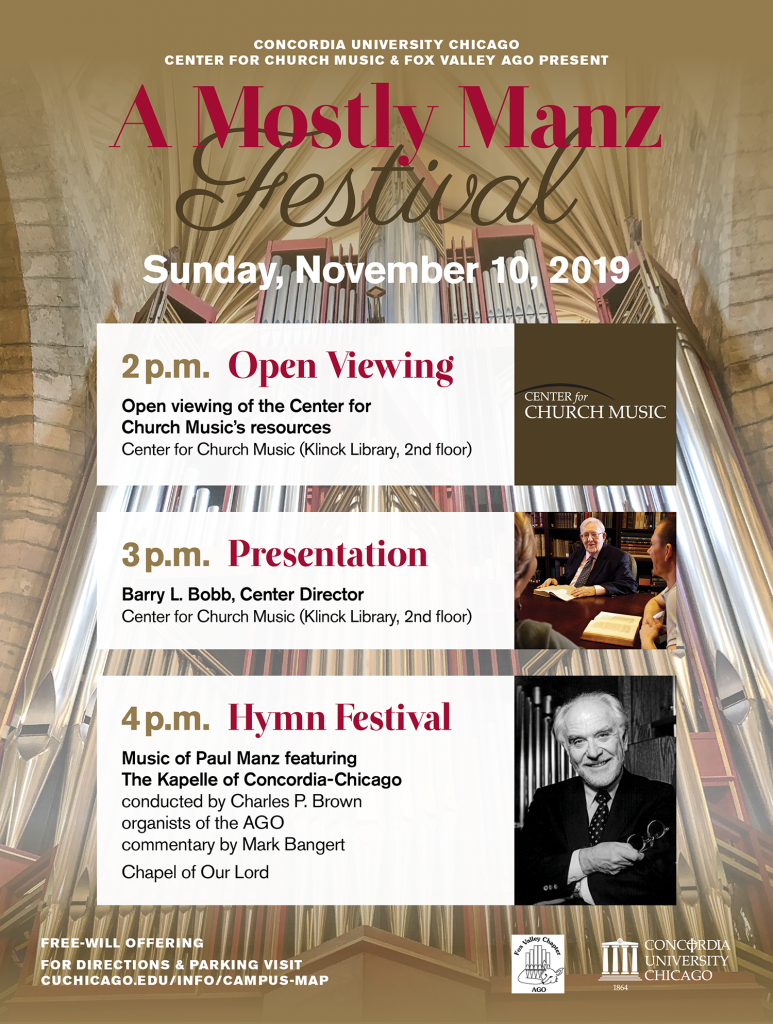 A MOSTLY MANZ HYMN FESTIVAL
Sunday, November 10, 2019 at 4:00 PM
The November AGO event celebrates the contributions of Paul Manz (1919–2009) and others to church music. Through his many hymn festivals and his many hymn improvisations, Paul Manz revitalized hymn singing and set a path that many current organists have followed.
The Manz manuscripts and recordings are housed in the Center for Church Music at Concordia University Chicago, in River Forest. The Center is both an archive and locus for the encouragement of the current and the next generation of church musicians. Currently, the Center holds the compositions of composers such as Manz, Carl Schalk, Richard Hillert, Donald Busarow, Walter Pelz, and Paul Bouman. It has published a number of monographs on church music. While primarily focusing on Lutheran church composers and activities, the Center strives to encourage all church musicians in our vocations.
The November 10 event will include
2:00 PM open viewing of the resources of the Center
3:00 PM brief presentation on the Center and its activities by Dr. Barry Bobb, the director of the Center
4:00 PM hymn festival of Paul Manz's music in Concordia's chapel, featuring several local organists, the Concordia University Kapelle (its touring choir) and brass, and commentary by Dr. Mark Bangert, professor of church music emeritus, the Lutheran School of Theology in Chicago. Dr. Bangert worked with Paul Manz for many years, both at LSTC and at St. Luke in Chicago.
For more information about the Center for Church Music, https://www.cuchicago.edu/about-concordia/center-for-church-music/
Concordia University
Chapel of our Lord
7400 Augusta Street, River Forest, IL 60305
For directions to Concordia University Chicago: https://www.cuchicago.edu/info/campus-map/
Parking is available in the parking structure on the east side of campus.
Steven Wente, event host
HELP UP PROMOTE THIS EVENT:  you can download a copy of this poster / flyer by clicking HERE.