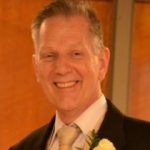 Welcome to the Fox Valley Chapter of the American Guild of Organists (FVAGO). My name is Mark Downey, the newly elected Dean of this outstanding chapter. We have over 140 members, representing a wide variety of personalities and interests. We are friendly, curious and love the joy of playing and listening to the organ. We have both professionally degreed musicians, as well as members who play the organ for the sheer joy it brings. Our members play in both large and small denominations. You do not need to be a professionally degreed organist to be a member in our chapter.
We offer a variety of monthly programs which will challenge and enrich your musical life. Please see the list of events published monthly for specific programs. If you are thinking about joining this chapter, remember all the benefits of a membership:
• Annual subscription to The American Organist (available in print or online format)
• Access to national job postings
• Eligibility for high-quality insurance plans for health, car, home and professional liability at competitive rates
• Chapter events such as recitals, workshops, meetings, and seminar (these are all geared for real-life situations)
If you are a member, welcome to one of most active chapters in the United States. If you are ready to join, you can do so here: https://ww.agohq.org.membership/join-as-a-chapter-member/.
If I can answer any questions you may have, please contact me by completing the "Contact Us" form on our web site.
Mark Downey, Dean