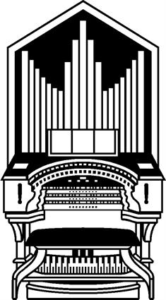 PEDALS, PIPES, & PIZZA!
JOIN THE FOX VALLEY AGO FOR A SPECIAL EVENT IN WHEATON
The Fox Valley Chapter of the American Guild of Organists is presenting a program to introduce young people to the organ, called Pedals, Pipes, & Pizza.  We will explain and demonstrate the pipe organ. The students will see the inside of an organ, and get to play a piano piece on it. The principal purpose of the day is to help students learn about the pipe organ and how it functions. We are not primarily interested in recruiting students for immediate organ study. If there happen to be students who would like to start organ study, and who are advanced enough in their piano study to start lessons on the organ, we would strongly recommend that they continue piano study while studying the organ.
The Pedals, Pipes, & Pizza event will be held at Gary United Methodist Church, 224 N Main Street in Wheaton, Illinois on Saturday, November 9, 2019 from 9:00 AM – 12:30 PM.
PLEASE NOTE: All students under the age of 18 must be accompanied by a parent or guardian for the entire event. The parent or legal guardian must also agree to allow permission of photographs to be taken during the event.
CONTACT FOR THIS EVENT: Please contact Dr. Lance Peeler if you have any questions. He can be contacted at lancepeeler@gmail.com or at 331-208-2557.
Kindly complete the registration form by November 6, 2019 by doing one of the following:
Register on-line by clicking on this link: http://bit.ly/2019PedalsPipesPizza
OR
You can download a registration form by clicking HERE and email the form, or mail it to:
Lance Peeler
403 E Harrison Ave.
Wheaton, IL  60187
lancepeeler@gmail.com